Body Butter
$18.50
Naturally NgaRoma Body Butter is a luxurious way to pamper and moisturise your whole body. After you have had a bath or shower pamper your skin with Body Butter. With Cocoa Butter and Shea Butter for moisturising, Avocado Oil for all its nutrients whipped into a butter - oh so smooth. Now comes in Six different scents. lavender, Revive, Romance, Lemon Balm & Bergamot, Natural Vanilla and back by popular demand Geranium Rose. This wonderful butter comes in a 150gm pot.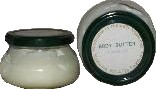 Scent Descriptions
Lavender - Pure Lavender - Time honoured Lavender. This beautiful scent is very relaxing after a shower or bath. If you have someone to buy for and are not sure what scent to get - this one will always work.
Revive - Peppermint, Geranium, Benzoin - This scent is very uplifting. If you need a boost in the morning or later in the evening to keep you going this will do it.
Romance - Cimmamon, Petitgrain, Sandalwood, Yland Yland & Pachouli - Consider yourself warned, ware at your own risk! The aphrodisiac properties of these essential oils is well known ;0) Great gift for Valantines Day. One of our most popular scents
Lemon Balm & Bergamot - Melissa (Lemon Balm), Bergamot - A refreshing scent of Lemon Balm with a hint of Bergamot for a little floral. Beautiful scent. If you don't like the flowery scents this one maybe for you. (Warning: Do not ware in direct sunlight, Bergamot is know to be photosensitizing)
Natural Vanilla - Vanilla needs no introduction. The beautiful sweet sent of this natural Vanilla will make you want to ware it everyday. This one is my personal favourite. Match this with our Vanilla Soap and Vanilla Soy Candles and endulge yourself.
Geranium Rose - Back by popular demand. Geranium Rose has a fabulous floral scent that takes you back to the garden full of Roses with a hint of Geranium. Along with Romance with is one of our more popular scents.
Unscented - Just like the rest of our fabulous Body Butters only unscented. For those of you who can not take essential oils but still want a great moisturiser. Also great for the guys - no smell!!!!